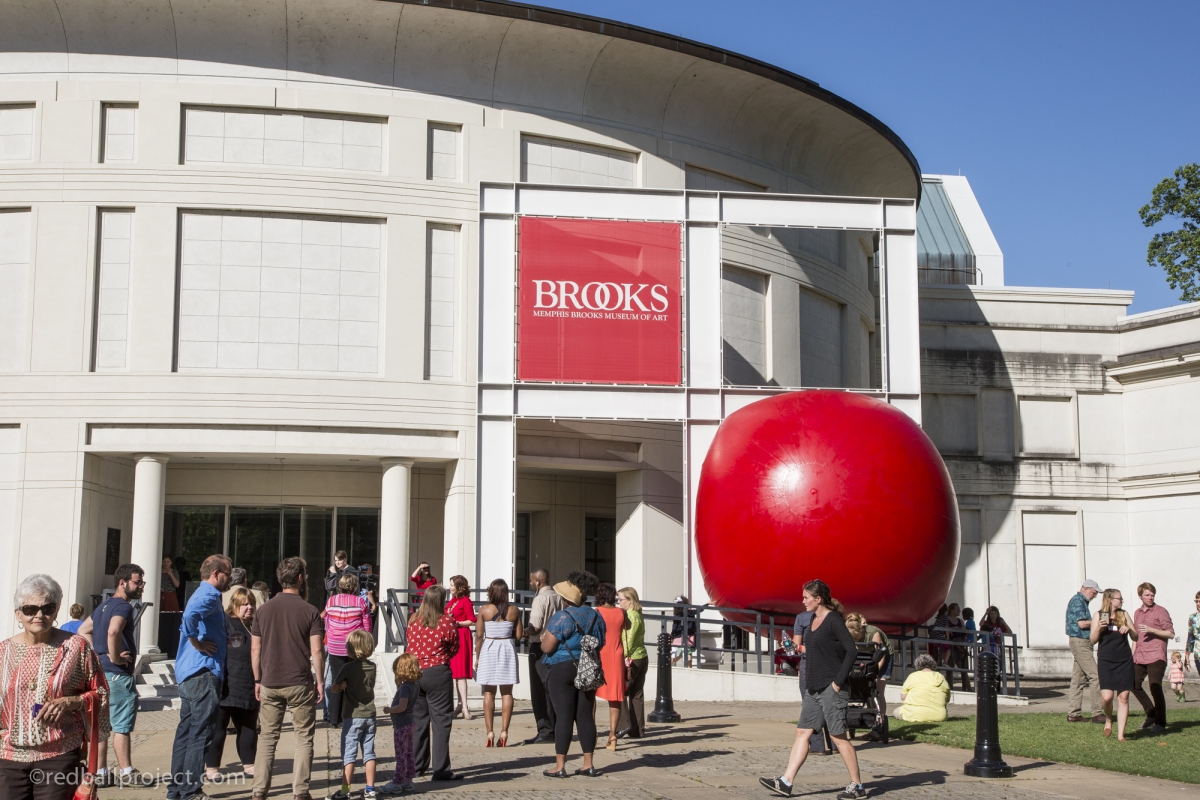 Art Environments
In September 2018, I curated Rotunda Projects: Federico Uribe, a large-scale site-specific environment centered around a 24-foot tall tree. Uribe (Colombian, b. 1962) traveled from Miami to Memphis and worked for a week creating the environment, which is on view in the rotunda of the Memphis Brooks Museum of Art until August 11, 2019. The environment includes several birds made out of discarded books and a baboon and a cat that are created from bullet casings.
Site Curation
At the Memphis Brooks Museum of Art, I oversaw Brooks Outside, an innovative curatorial program that launched with the museum's centennial in spring 2016. The exhibition series is designed to bring art beyond the museum's walls--either to the larger campus of Overton Park, or to outlying areas of the city. These short, intense, community-activating installations were selected to resonate long after their removal, to enhance community outreach, and to facilitate discussion. I produced two major Brooks Outside exhibitions: Red Ball, which appeared in 10 locations around Memphis in May 2016, and Intrude, which was installed on the Brooks' plaza in January 2017.
Collection Interpretation
In May 2018, I curated an in-house exhibition at the Brooks, pulling a variety of works from the museum's permanent collection to place on view in a third floor gallery. For this particular project, I chose objects that display the diverse ways that artists have portrayed birds and fish throughout time and across continents. The small exhibition includes paintings by Carl Gutherz, Mary Sims and an unknown Aboriginal Australian, as well as 16 objects from three continents.
Exhibitions as Conversation Starters
Intrude, one of the most highly acclaimed major public art installations in the world, came to the Memphis Brooks Museum of Art in January 2017. The spectacle-sized work consists of five giant illuminated rabbits, the largest of which is over 23 feet tall. This imaginative and joyful piece was created by Australian artist Amanda Parer in 2014 and has since been seen on four continents, in over 50 cities by over a million people!
I site-curated Brooks Outside: Intrude, which explores the natural world, its fragility, and our role within it. Rabbits in Parer's native Australia are out of control pests, leaving a trail of ecological destruction wherever they go and defying attempts at eradication. First introduced by white settlers in 1788 they have caused a great imbalance to the country's endemic species.
The rabbit also is an animal of contradiction. It represents the fairytale animal from our childhood—a furry innocence, frolicking through idyllic fields. Intrude deliberately evokes this image, and a strong visual humor, to lure you into the artwork only to reveal the more serious environmental messages behind it. Click here to learn more about Intrude and the artist.
The Brooks presented programming to promote interaction between exhibition visitors, including an Instagram contest and a film series that provided both context and entry point, forging connections between fine art and popular media through films such as Harvey and Night of the Lepus.
The exhibition brought together thousands of Mid-Southerners from all walks of life at a time that the country felt politically divided.
Press: 'Intrude' Brings Giant Bunnies to Brooks Outside
Fun Bunny Weekend at the Brooks Museum
Hare-Raising Art in Overton Park
Bunny Movies Deliver Warm Fuzzies, Killer Rabbits at Brooks
Giant Bunnies to Invade Brooks Museum
Programming as an Entry Point
In my role at the Brooks, much of my programming was related to work on view at the museum, whether by subject matter, geography, time period, or other themes. Well-curated programming provided both context and entry point for all museum visitors. I worked with different community groups to forge connections between fine art and popular media, which greatly encouraged repeat visitors and helped to promote the more general goings-on at the museum. Here, Hattiloo Theatre performed a line reading of George C. Wolfe's The Colored Museum in galleries where Hassan Hajjaj's My Rock Stars was on view.
Diverse Programming
While the American Association of Museums reports that just 9 percent of core museum visitors are minorities, that number is much higher at the Brooks, particularly in regards to African American and Latin audiences. I frequently collaborated with performers and guest speakers of color, including Masta Ace, Think BLK, IMAKEMADBEATS, Tonya Dyson/The Word, Cities Aviv, and multi-disciplined artist Lawrence Matthews, seen here.
LGBTQ Initiatives
Beginning in 2014, I began a concentrated effort to offer programming for and/or produced by Memphis' LGBTQ population. While the Brooks was always considered a "safe" place for queer audiences, I sought to directly engage the community via film screenings, tours, and other programming. Here, non-gendered art historian Virginia Solomon discusses sexuality in works in the museum's permanent collection with a capacity audience.
Community Collaborations
At the Fourth Bluff, I partnered with Revolutions Bicycle CoOp for a monthly Downtowners' Bike to Lunch. Revolutions staff led downtowners to a restaurant located within a 15-minute bike ride of the Fourth Bluff. We encouraged participants to unplug, boost their creativity, and participate as a way to improve the bikeability perceptions of downtown Memphis.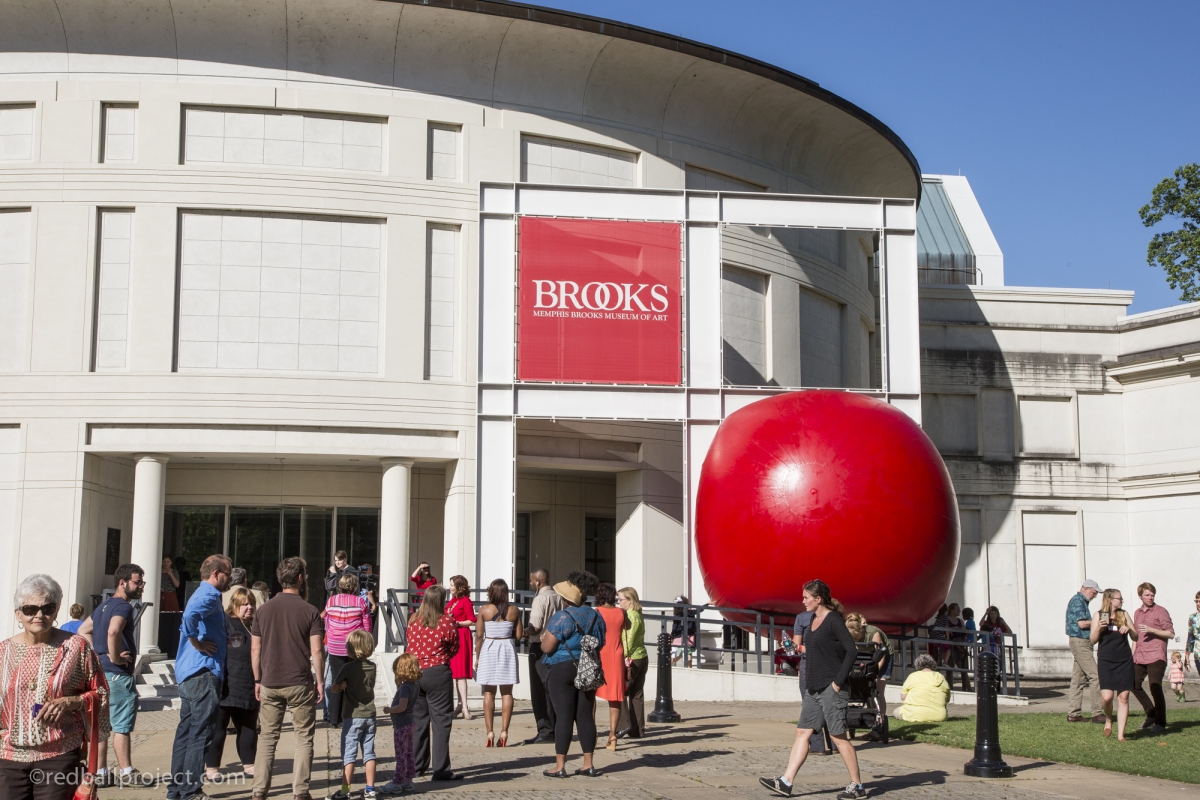 Large-Scale Outdoor Installations
As part of the museum's centennial, New York artist Kurt Perschke brought his world-traveled RedBall Project to Memphis in April and May 2016. During its performance run in Memphis, this fun and provocative installation was strategically placed in ten different sites in the city, personally selected by Perschke during his visit to Memphis in December 2015. I site-curated the performance, which traveled from the Brooks' grounds in Overton Park to the New Daisy Theatre on Beale Street, Beale Street Landing, the South Main Arts District, University of Tennessee Health Sciences Center, Barboro Alley, Memphis College of Art, Hattiloo Theater, and the Stax Museum of American Soul Music before returning to the Brooks.
Mindfulness
Mindfulness in the galleries promoted "deep looking" and encouraged museum visitors to feel at home in formal spaces. At the Brooks, I established a weekly yoga practice led by Misti Rae Holton.
Sense of Place
In fall 2017, The Fourth Bluff took over the Promenade overlooking the Mississippi River for 10-part Friday Night Dance Party, installing a LED light-up dance floor located just west of the University of Memphis' Cecil B. Humphreys School of Law at 1 N. Front Street. This temporary environment helped create new connections to and experiences on the riverfront.
One-Night Only Experiences
As associate curator, I felt that city institutions such as the Brooks needed to offer frequent and affordable experiences. Bringing in guest speakers also helped boost the profile of our film program. During my tenure, I used outside connections to create a variety of iconic experiences. Special guests included members of the New York Dolls, who discussed their career next to a 1973 photograph of the band by Alain Dister; author Peter Guralnick, who began his book tour for Sam Phillips: The Man Who Invented Rock 'n' Roll at the Brooks; rapper Masta Ace, who discussed his family's move from Tennessee to New York during the Great Migration; and Warhol Superstar/underground film legend/LGBTQ icon Joe Dallesandro, seen here in conversation with Clough Hanson Gallery director Joel Parsons.
Press:
Warhol superstar Joe Dallesandro in conversation at Brooks
NYC rapper Masta Ace comes to Memphis to explore family roots
Zora Neale Hurston inspires Peter Bagge graphic novel
Food + Conversation
In September 2017, the Fourth Bluff hosted its first Dinner Conversation, a shared space to exchange ideas and experiences. Curated by the CLTV and co-hosted by former NBA star/art collector Elliot Perry, the evening featured special guest Tavares Strachan, a Bahamas-born conceptual artist who lives and works in New York. Attendees included young working artists, curators, leaders of arts institutions, and collectors. The Dinner Conversation was conceptualized to establish the Fourth Bluff's reputation as a place where discourse is vibrant, diverse, and integral to the intellectual and creative development of all Memphians. Dinner Conversations offered an opportunity for participants to mix, network and enjoy a stimulating discussion in a relaxed and unexpected environment.
Contextual Programming Through Film
In 2017, I conceived and programmed Banned in Memphis, a five-part series of film screenings highlighting work banned from Memphis theaters by Lloyd Binford, the head of the Memphis Censor Board for 28 years. Regarded as "the toughest critic in America," the former railway clerk turned insurance executive was notorious for his views on white supremacy, womanhood, and outsider views of the American South. Binford banned films with African American stars or unsegregated scenes, films that featured violence or teenage rebellion, and even film that he disliked because of the personal conduct of the actors rather than the content of the script. Screenings of King of Kings, The Wild One, Cabin in the Sky, The Outlaw and Stromboli were introduced by local scholars, film critics and historians, who also led discussions after each screening.
Press: 'Banned in Memphis' returns once-censored films to screen

Collaborations with Working Artists
At the Brooks, I used programming to forge new relationships with working artists who reside in Memphis--particularly minority and women artists. I frequently created opportunities for artists to sketch museum visitors, to document objects in the permanent collection, and to engage visitors in their own work by discussing their artistic process, by showing off their sketchbooks or creating prototypes for participatory experiences.
Participatory Experiences
At the Fourth Bluff, we invited Memphians to visit Cossitt Library in the weeks preceding Thanksgiving, tell us what they were thankful for this season and place a colorful tags on the library's soon-to-be-demolished fence. Participants included passers-by, staff at many downtown businesses and the scholars at Grizz Prep.
Community Building Through Art-Making
Via Art & a Movie, a program I began at the Brooks in 2011, filmgoers were encouraged to foster conversation and community by participating in make-and-take art activities before screening a related film. Art & a Movie provided intentionally designed opportunities for strangers to interact, and created a welcome hubbub in the museum lobby. This program also shifted the traditional adult visitor paradigm to a "learning by doing" philosophy, offering participants more meaningful access to the artwork on view.
Experimental Film Programming
In October 2016, I brought Matthew Barney's River of Fundament to the Brooks for two screenings, the last stop on its worldwide tour. The experimental film, primarily excerpted from Mailer's Ancient Evenings, includes historical rites from the Egyptian Book of the Dead and The Pyramid Texts, along with texts from American authors Walt Whitman, Ralph Waldo Emerson, and William S. Burroughs, offering a confluence of meditations on the timeless concerns of mortality and regeneration.
Press: Brooks hosts rare screening of Matthew Barney film epic 'River of Fundament'.